"I am a deeply spiritual person and my practice is built on that foundation. I believe that everything in life is about balance. Life is about being proactive, informed, and assessing risk vs. benefit. All decisions should be made from a place of centered spiritual connection based on love, not fear."
– Doctor AMara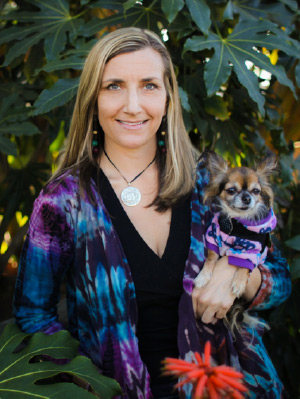 Healing Hope is a holistic consultation practice for companion animals and their owners, offering clinic appointments, phone consultations, patient health care coordinating, and house calls.
Doctor AMara facilitates healing with a variety of modalities including nutrition, nutraceuticals, glandulars, western and eastern herbs, homeopathy, chiropractics, energy therapies and flower essences.
Doctor AMara's primary interest in assisting the whole FAMILY (pets and their people) began when she started recognizing the amazing pattern consistencies in homeopathic intake interviews. The same remedies appropriate for physical ailments in pets correlated to stressors or mental/emotional states of the human client. Then she started to see pure magic in her own household, with family members and friends. After treating recurrent diarrhea in her two young cats by treating herself with a remedy, she knew she was onto something.
Over the last six years, she has developed a completely unique practice, built on the microcosm of the FAMILY… Pets being at the center, pointing to the direction of therapy. Can pets truly be our preventative medicine? Doctor AMara KNOWS this is so… With 15 years of holistic veterinary medicine and 12 years of homeopathy experience, she has witnessed multitudes of miraculous healings. She is especially well versed in:
Gastrointestinal disease
Musculoskeletal disease/pain/neuropathy/neuralgia
Skin disease
Endocrine disorders
She also specializes in:
Animal behavior issues
Human PTSD, panic attacks, depression, anxiety
Insomnia
All allergies
Candidiasis
Food intolerances
All autoimmune disease
Her personal story of health challenges and how she became her own doctor to facilitate deep healing on every level is an inspiration to all who are currently suffering with any degree of chronic illness and limited lifestyle. She is currently writing her first book highlighting her own story as well as some of the miracles she has seen. Her goal is to bring HOPE to the masses and completely change the face of medicine and teach us all to look to our animals for the answers.
Our pets truly are our guardian angels here on earth… our own preventative medicine!
Remember, your pets are aging 7 to 10 times faster than you are!
Early screening and prevention is INVALUABLE! 
Most humans should be getting annual health screening between the ages of 35 to 40. Please look at the chart below to determine your pets age equivalence to human years.
How far behind are you with your pet's health screen?